Dr. Sarah Haller is a medical professional who demonstrates her work on TLC's My Feet Are Killing Me. Despite being on multiple shows, Dr. Sarah Haller has decided not to open up about her life with the public.
As a result, her fans and the media have not been able to know her very well. Regardless, we know that she originally hailed from South Carolina and was born sometime in 1987. As of 2021, she is 34 years old.
Who is Dr. Sarah Haller?
Remarkably, Sarah was a ballet dancer for 15 years. So one may ask how she got into the medical field. Undoubtedly, dancers often feel the strain on the lower half of their bodies. Naturally, she would suffer from constant feet aches now and then. At one time, it was so unbearable that Sarah consulted a podiatrist.
She was amazed at how the doctor provided her with an easy in-office treatment and suggestions that helped her to dance pain-free in the future. This caring nature of her doctor had an enduring impact on young Sarah, who later decided to pursue a career in medicine.
Sarah is a podiatrist who practices in Hoboken, in Hudson County, New Jersey.
Education and Profession
Dr. Sarah Haller has been working as a foot and ankle surgeon for over seven years. But before she achieved her goals, Sarah had to work extremely hard. Starting with her studies, she earned her bachelor's degree in Biological Science from Columbia College.
Later on, Sarah enrolled in Barry University School of Podiatric Medicine to study podiatry. Following her graduation in 2013, she had the opportunity to become a resident physician at CarePoint Health System, where she served for nearly three years.
Upon completing her residency at Hoboken University Medical Center, Sarah pursued a fellowship program at Weil Foot Ankle and Orthopedic Institute in Chicago, Illinois.
Sarah has learned a great deal about the anatomy of the feet. Not just that, she was also involved in projects that dealt with trauma, nail pathology, and bilateral bunion surgery. Moreover, Dr. Sarah is the founder of the New Jersey Foot and Ankle Foundation.
It is an institution that specializes in musculoskeletal deformities, sports medicine, post-traumatic reconstruction, and revision surgery of the foot and ankle. Being a doctor, one has to be associated with numerous health organizations depending on their field of work.
Hence, Dr. Sarah is also a member of Essex Union Podiatry, a medical group practice located in Rahway, New Jersey. Sarah also reviews articles for Foot & Ankle Specialist (FAS) and The Journal of Foot & Ankle Surgery (JFAS).
Apart from co-authoring several publications, she has also been a part of numerous international orthopedic seminars. Now, Sarah appears on live television, demonstrating her expertise in healing feet and providing genuine consultations to the people.
Dr. Sarah Haller Net worth
Prominent figures are known for their staggering amount of wealth and lavish lifestyles. Regardless, Dr. Sarah Haller's net worth is approximately $500k as of 2021. Her bank account stems from her profession as a podiatrist and her involvement in TLCs My Feet Are Killing Me.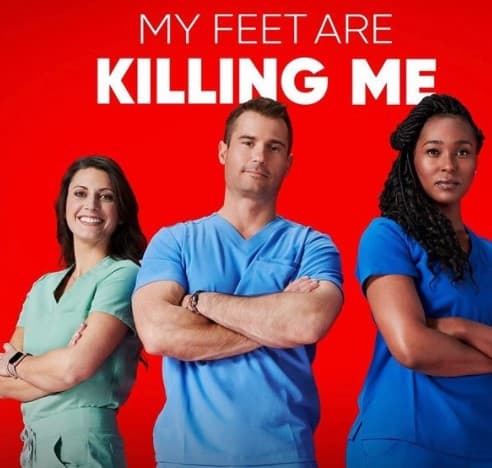 Who is Dr. Sarah Haller married to?
Only doctors know how living the life of a medical professional can be hard. Because there could be emergency cases at any time, it can be difficult for doctors to get some personal time for themselves.
Likewise, Dr. Sarah is no exception. With all of her time being spent on her career, she does not seem to be focused on marrying anyone for now. Moreover, she prefers to remain tight-lipped about her personal life, which is why it's difficult to get more information out of her.
Even on her social media, she is constantly seen sharing pictures regarding her family, friends, work, etc., but never about her lucky man. Perhaps Dr. Sarah Haller is focused on her career at the moment. It explains why she hasn't been able to find the perfect man yet.
Wiki Facts
| | |
| --- | --- |
| Real Name/Full Name | Sarah Haller |
| Date of birth | 1987 |
| Place of birth | South Carolina |
| Age | 34 |
| Weight | 55 kg |
| Height | 5 feet 7 inch |
| Religion | Not available |
| Nationality | American |
| Ethnicity | White |
| Gender | Female |
| Education | Barry University School of Podiatric Medicine |
| Sexual Orientation | Straight |
| Marital Status | Single |
| Profession | Podiatrist, media personality |
| Net worth | $500k |
| Social media | Instagram |