Jeffrey Rebish is a dermatologist and social media personality. He is famous for being Dr. Pimple Poppers' husband. While he is not exactly a main feature on the team, Jeffrey has appeared in several of Dr. Pimple's promotional videos on YouTube.
The channel she and her husband run a channel with about 6.9 million subscribers. Other than that, Dr. Pimple Popper and her husband are also the proprietors of a dermatology clinic in America. Here are a few more interesting details about Jeffrey Rebish, including his net worth and wiki.
Who is Jeffrey Rebish?
Dr. Jeffrey Rebish is a working physician and budding entrepreneur. He was born back on November 25th, 1972 in New York City. This not only makes him 48-years old but also a Sagittarius.
Jeffrey grew up with two other siblings, Karen and Stuart, in Westchester, New Yorker. Dr. Rebish is a well-learned physician. Fresh from completing high school, it is widely reported that he attended several institutions.
These institutions include Dartmouth College, the New York Medical College, and even the Hahnemann School of Medicine. Jeffrey's main area of expertise was two main skin conditions: psoriasis and skin cancer. He'd then take up a training program with the San Bernardino County Hospital.
This paved the way for him to become a surgical dermatologist eventually. Presently, he is even affiliated with the Academy of Dermatology based in America. Other than that, Jeffrey Rebish also works for the San Antonio Regional Hospital as their on-site dermatology specialist.
Life as Dr. Pimple Popper's husband
Jeffrey and his wife Sandra first met in college back in Philadelphia. At the time, both of them were dermatology students. According to Sandra, she knew that Jeffrey was her soul mate the very first day the two met- this was back during orientation.
They started going out shortly after, and they kept seeing each other whilst in college. After graduating from the institution, Jeffrey and his spouse moved to California in order to take over Sandra's family's dermatology clinic. As of 2021, the two still run Skin Physicians and Surgeons.
They make quite the pair- Sandra was the face of the company, while Jeffrey was tasked with all the clinic's business aspects.
Kids
Presently, Jeffrey and his wife have two children together. Their sons are both teenagers, aged 15 and 16 at the moment. In an interview, Dr. Pimple revealed that her sons weren't exactly fond of watching her pop pimples, and so they avoid her show completely. This is something the two boys have in common with their father, who, also does not favor pimple-popping content.
The family of four does, however, share a few common interests. At the top of this is their affinity and love for football. Each Sunday, they all get together to watch their hometown team, the Los Angeles Rams, play.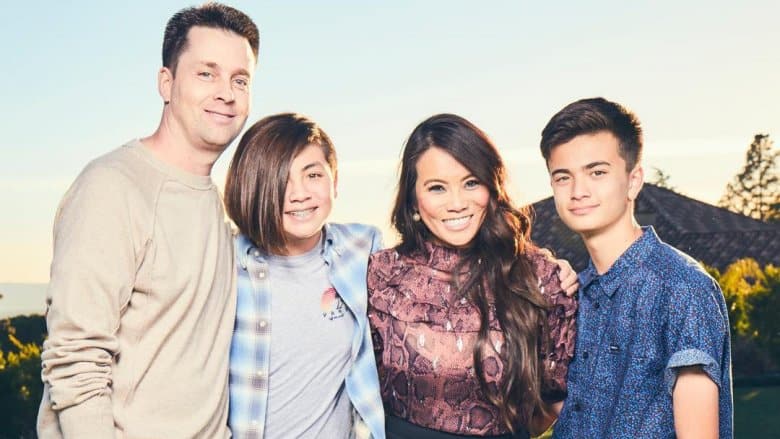 Net worth and Income
Jeffrey's primary source of income comes from the dermatology clinic which he runs with his wife. Sources say that they even have a line of skin products out in the market. The products are generally geared towards people who need to take care of pimple-related issues.
Presently, Jeffrey Rebish's net worth is estimated to be $1 million. Besides the work they do in dermatology, Jeffrey and his wife also enjoy a fair bit of extra income from her television shows. That, combined with the YouTube page that Dr. Pimple Popper runs, has helped her generate a net worth of $8 million.