Dr. Brenda Mondragon is a licensed chiropractor who has been adjusting backs, spines, and necks in Florida for a long time. As of now, she runs her own private clinic by the name Mondragon Chiropractic LLC. According to healthgrades.com, she is 37 years old as of 2021.
She has a unique way of adjusting human anatomy. Her methods include chiropractic adjustments, proper diet, and physiotherapy. But when she is about to play with the body, Dr. Brenda likes to loosen up the tissues and muscles before so that she can prime the muscles for any adjustment needed.
Who is Dr. Brenda Mondragon?
Dr. Brenda is a physician who practices in both Florida and California. In one of her YouTube videos, Brenda mentioned that her father was the one who got her into this field. In fact, everyone in her family was a chiropractor.
She often credits Palmer College for helping her build the roots for her professional career. As a matter of fact, Palmer was one of the first campuses ever to provide formal education on body adjustment. Likewise, the kind of education she got there was unlike any other.
She got to learn the philosophy of this practice and apply it effectively in the real world. Hence, she graduated with a Doctorate, Magna Cum Laude, from the same institution.
Last but not least, Dr. Brenda Mondragon is also a YouTuber who posts her chiropractic videos online in the hopes that others can learn from her. Also, she tells her fans about her journey in becoming a chiropractor and how others can follow in her footsteps.
Dr. Brenda Mondragon Husband
If one took a stroll around her social media, it would be clear that Dr. Brenda is like an open book who does not shy away from hiding anything.
Despite being someone who loves to come out in the media and share every bit of detail with her followers, Dr. Brenda seems to avoid talking about one thing; her husband.
It is one thing to be busy at work, but not a single picture of spending time with her husband is a thing of concern. She does post a plethora of her children's pictures now and then.
Moreover, there has not been any media coverage on Dr. Brenda's love status. No one knows for sure whether she is still married to her husband or not.
Kids
Nonetheless, Brenda has four children with her mystery partner. These include a daughter and three sons. The eldest amongst them is her daughter Linnea. Similarly, the other three are Diego, Hector, and Locklin. Locklin being the youngest as he is only 4 years old at this time.
It is safe to say that the mother of four loves to have fun with her kids. She recently posted a picture of her youngest son, referring to him as the little Einstein. Likewise, her elder children, Linnea and Diego, are often seen helping their mother make YouTube videos and assist her with her work.
But they also cause havoc in the workplace, as mentioned by Dr. Brenda. Her daughter is perhaps her biggest helper as she records videos and takes pictures for her mother.
Linnea aspires to be a chiropractor just like her mother. During Mother's Day, Linnea gave a heartfelt speech about her mother and confessed that she considers Dr. Brenda to be her role model.
Besides that, Dr. Brenda loves all of her children equally. Also, her fans absolutely adore her kids. Their presence on her YouTube channel is truly heartwarming.
Family
As mentioned earlier, Dr. Brenda comes from a family with a pension for medicine. As she has said in her video titled, How I Changed My Life, her father and brothers were chiropractors who also graduated from Palmer College. Also, her younger brother is studying there at the moment.
Nevertheless, one may wonder why almost everyone in her family is so hung up on this profession. Well, her family understands the importance of this particular science to live life to the fullest. Often, people suffer from bone aches, muscle tightness, and stiffness, which could lead to various serious health problems in the future.
Net Worth
According to various sources, Dr. Brenda Mondragon's net worth is approximately $500k as of 2021. However, that's not all. She also has a YouTube channel that gets a decent number of views.
As a matter of fact, she has a staggering 919k subscribers on YouTube and generally gets over 100k views on her videos. With such a huge fan base, it is easy for Brenda to attract more customers. Hence, it is no doubt that her involvement in YouTube significantly boosts her earnings.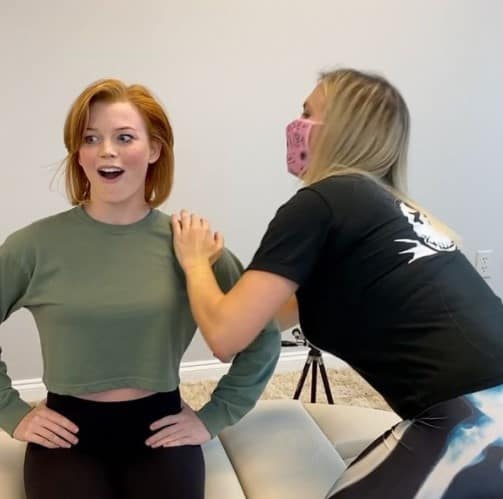 Dr. Brenda Mondragon runs her own business which usually has a huge turnover rate with large profits. Hence, it is safe to say that she is financially doing well for herself.
Wiki Facts
| | |
| --- | --- |
| Name | Dr. Brenda Mondragon |
| Date of birth | 1984 |
| Place of birth | Iowa, US |
| Age | 37 |
| Gender | Female |
| Height | 5 feet 8 inch |
| Ethnicity | White |
| Nationality | American |
| Marital Status | Married |
| Spouse | Not available |
| Children | Linnea, Diego, Hector, and Locklin |
| Profession | Chiropractor, YouTuber |
| Net Worth | $500k |
| Social media | Instagram |