Dr. Ian Smith is a medical doctor who also happens to be a bestselling author and a recognized television host. He features on shows like The Doctors, Celebrity Fit Club, and The View.
Moreover, he is also a humanitarian who has the desire to make people fit and fine. Throughout his career, he has launched various campaigns dedicated to helping people get into the best shape of their lives.
One of them was in 2007 after he started a national weight-loss initiative, 'the 50 Million Pound Challenge.' All his accolades and services are well-received by the people, making him one of the most trusted doctors in the world.
Education
Smith completed high school at Danbury's Immaculate High. Later on, he pursued his education at one of the best American colleges, Harvard college. There, he graduated with a Bachelor of Arts in 1992. Continuing on his studies, he decided to graduate with a Masters in Science Education from Columbia University in 1993.
Similarly, he attended Dartmouth Medical School, where he finished the last two years of his medical education. He'd then transfer to the Pritzker School of Medicine.
Dr. Ian Smith's wife
Those that have been following Dr. Ian Smith know that he is married to his long-time sweetheart, Tristé Noelle Lieteau.
Interestingly, his wife comes from a family of doctors. She is the daughter of Dr. Sharon Lewis Lieteau and Michael P. Lieteau of Chicago. While her father may be the senior director of government relations for SBC Illinois, a telecommunications company, her mother is a psychiatrist who has been practicing in Chicago for a long time.
Like Dr. Ian, his wife has also been working in the health sector for quite some time. In fact, she is a health care executive based in New York. To be more specific, she is the director of government relations and has also worked as an associate general counsel at Northwestern Memorial Hospital in Chicago.
Talking about her education, she graduated from Hampton University and received a law degree from the University of Chicago. Later, she obtained a medical degree from Harvard University.
Tristé and Ian dated for 14 years before he popped the question while vacationing in New Zealand. Ian revealed that he had to ask her three times with a 6.4-carat diamond ring before he finally said yes.
Marriage
Rich and famous people like Dr. Ian have a very lavish way of living. So, one can also be certain that his wedding was nothing short of spectacular.
The reception took place at Manhattan's Rainbow Room restaurant. Daily Blossom outdid themselves by converting the site into a spectacular reception space with lush burgundy peonies and 4,000 rouge-red roses.
What's more adorable was the tables being named after each places the couple spent their life together, including the place where they first kissed. It was further embellished with silk linens and different shaded flowers as reds, oranges, berries, and pinks.
Dr. Calvin O. Butts III was in charge of the ceremony. He is a member of the Abyssinian Baptist Church in Harlem. Moreover, the couple exchanged their vows on the 29th of May 2005 and has been living a happily married life ever since.
Children
As of now, the couple shares two children. These are Dashiell and Declan. Both of them are still very young and live a life away from the limelight. They were recently seen waiting to glimpse a Presidential motorcade in Chicago.
Books
Being a doctor, Ian has written books focusing on healthy diets such as The Fat Smash Diet, Happy, Shred: The Revolutionary Diet, Super Shred: The Big Results Diet, The Shred Diet Cookbook, and The Shred Power Cleanse, Clean & Lean.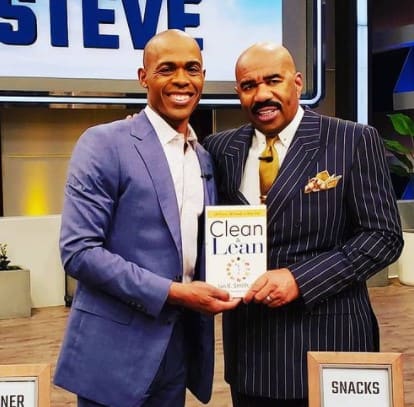 Furthermore, he has also written articles for numerous magazines such as Time, Newsweek, Men's Health, New York Daily News, People, etc.
However, that's not all. Dr. Ian Smith seems to be a fan of fiction. Reading is a hobby he first developed in his youth. He has written novels like The Blackbird Chronicles, The Ancient Nine, and The Unspoken using that info. Most of his work is inspired by real-life events.
Net Worth
As of 2021, Dr. Ian Smith has a net worth of $300k. A significant part of his earnings came from his profession as a medical worker and a media personality. Similarly, his published books have been a major plus point for his bank account as he is also one of the best-selling authors.
Other than that, Dr. Ian and his wife recently sold their four-bedroom, 3,862-square-foot townhome in the South Loop for $1.0875 million. Later, they shifted to a 15-room 9,000-square-foot mansion in Kenwood, for which they paid $2.75 million.
Recently, they decided to put this house on sale for $1.2 million. He and his wife are currently living in a townhome they bought for $1.22 million back in 2007.
Twin brother and Family
Dr. Ian Smith grew up with his twin brother Dana in Danbury, Connecticut. Both brothers look like a copy of one another. However, in the fifth grade, the boys made up their minds to have their own individual identities and stopped dressing alike.
Likewise, Ian would be the scholar, and Dana would pursue a career as an athlete. The two also participated in numerous college games.
Once, the Smith brothers even played basketball, leading their teams to the tournament's finals. Both siblings were raised by their single mother, Rena Cherry Bastion. She worked as a human resources manager for an alternative energy company. The whereabouts of their father are still a mystery.
Wiki Facts
| | |
| --- | --- |
| Name | Ian K. Smith |
| Date of birth | 15th of July 1969 |
| Place of birth | Danbury, Connecticut |
| Age | 51-years old |
| Gender | Male |
| Height | 6 feet 1 inch |
| Ethnicity | African-American |
| Nationality | American |
| Marital Status | Married |
| Spouse | Tristé Noelle Lieteau. |
| Children | Dashiell and Declan |
| Profession | Medical doctor, media personality, author |
| Net Worth | $300k |
| Social media | Instagram |