Brittany Nassif is the wife of Dr. Paul Nassif. Celebrity lives are hardly missed by their fans. Those who are fans of the prominent reality series Botched are very familiar with the show's co-host, Paul Nassif. The same man is also known for being an experienced plastic surgeon who starred in a program that highlights his professional work.
Nonetheless, the admirers of this man have been roaming around him like shadows to know about his personal life as well. The fans got even more intrigued to know about him ever since his second marriage to a beautiful and much younger woman named Brittany Pattakos.
Who is Brittany Pattakos?
Brittany Pattakos is an American medical assistant, fitness enthusiast, as well as a TV personality. She is best known as the girlfriend turned wife of the reality show co-host and plastic surgeon, Dr. Paul Nassif.
Moreover, she became the talk of the town due to her charismatic relationship with her husband, who is 29 years older than her.
Descending from Greek heritage, this young woman was born and raised in America. Moreover, she grew up with her twin sister, Jessica Pattakos. The sisters are very close to one another and love each other. In fact, Brittany's sister is a survivor of health failure.
Despite coming to the spotlight after marrying an eminent figure, Brittany has not revealed much about her childhood and early days.
Nonetheless, we know that she is a Coolsculpting specialist and assistant who has been in working in this field for a long time. As a matter of fact, she graduated with Coolsculpting from Coolsculpting University in 2018.
It is a delicate field of science where countless hours are spent participating in hands-on education on the fat-freezing methods that aim to get rid of stubborn fat in certain parts of the body.
Despite being such a rigorous and daunting medical job, Brittany does it ever so well and is very interested in it. In fact, she is all about giving positive vibes and helping others. Perhaps it is these qualities, as well as her beauty, that made a prominent figure like Paul Nassif fall on his knees and marry her.
Her Age.
This young bride of Paul Nassif is 30 years old as of 2021. Additionally, Brittany Pattako Nassif was born on the 3rd of January 1991 in Los Angeles, California. Brittany shares her birthday with her twin sister, Jessica.
On the occasion of her birthday, Brittany even shared a video that shows a montage of their pictures from their early days till the present. On the other hand, her husband is 29 years older than her, who is 58 years old as of now.
Married life as Dr. Paul Nassif's Wife.
They say that love can happen at any time to anyone regardless of their age difference. While this statement might not hold true for every normal human being, it does hold to be true for wealthy magnates. After all, who would want to decline a prominent TV star as well as a well-rounded doctor like Paul Nassif?
Nonetheless, Brittany is completely satisfied with her newly married life. So far, they are strong in their marriage and show no signs of splitting. Moreover, Brittany shares a huge portion of her husband's net worth of $16 million.
Hence, it can be said that Brittany is living a fulfilled life that every woman dreams of. The husband and wife also have a similar work line, which also helps them connect in a certain way.
On a side note, Brittany is the second wife of Paul Nassif, as her husband was previously married and divorced from an American businesswoman named Adrienne Maloof.
How Dr. Nassif and Brittany Pattako Met.
No matter what, the couple love each other and only decided to marry after dating for a long time. It was during one of the medical meetings where Brittany Pattako met Dr. Paul Nassif. At the time, she was just a nursing student trying to learn from medical experts.
When she met Paul, she was unsure whether there would develop any relationship between her and Paul. Regardless, the two began having feelings for one another since Paul expressed his love for Brittany.
During that time, Dr. Paul was a divorced man and was not in a relationship with anyone. So, it was a perfect time for Brittany's husband to mingle as well. The couple made their relationship public by announcing it on their Instagram post in 2018.
Just a year later, the cool sculpting specialist and Paul announced their engagement on the 1st of June 2019. The two were in love with one another and could not wait longer to get married. Hence, taking some time out of their busy schedule, Brittany and Paul fixed their wedding on the 28th of September 2019.
The fact that Paul loves his new wife dearly can be seen during his marriage ceremony. Brittany was Greek, and Paul could not find a better place to get married than in her own homeland, Greece. Therefore, the couple tied the knot in a beautiful wedding venue in Santorini, Greece.
Children: Dr. Nassif and his wife Brittany Pattakos Nassif have a Daughter Together.
It has only been a year since this adorable couple's wedding, and they already share a child together. Unfortunately, their baby was born during the height of the Covid 19 pandemic in 2020. Nonetheless, the couple gave birth to a healthy baby girl named Pauline Anne Nassif on the 13th of October 2020.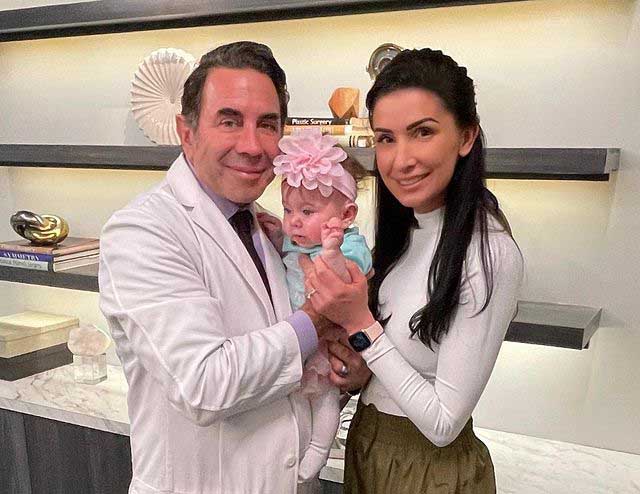 The happy family of three is currently living a modest life.
Other than this, her husband has three children from his previous marriage. They are Gavin, Collin, and Christian Nassif.
 Brittany Nassif's Wiki-Facts.
| | |
| --- | --- |
| Real Name/Full Name | Brittany Pattakos |
| Date of birth | January 3, 1991 |
| Place of birth | Los Angeles, California |
| Age | 30 years old |
| Weight | 131 lbs |
| Height | 5 feet 9 inch |
| Religion | Not available |
| Nationality | Greek-American |
| Ethnicity | Latino |
| Gender | Female |
| Sexual Orientation | Straight |
| Marital Status | Married |
| Spouse | Dr. Paul Nassif |
| Children | Pauline Anne Nassif |
| Profession | Medical assistant, cool sculpture specialist |
| Net worth | $500k |
| Social media | Instagram |