Dr. Umar Johnson is an American physician who has proven to be quite controversial over the years. He is a doctor who follows his beliefs regardless of the consequences.
Nonetheless, Umar Johnson has become one of the most respected medical personnel in the country. Clinical Psychology is his main area of interest. Moreover, he is widely known as a child specialist who deals with mentally depressed people.
Besides being a doctor, Umar is also a motivational public speaker who usually talks about black race equality. Lastly, he is also an accomplished author who has written several best-selling books.
Who is Dr. Umar Johnson?
Umar was born on the 21st of August 1974 in North Central, Philadelphia. As of now, he is at the age of 44. Unlike most children, his childhood was often challenging.
In fact, he was raised alongside ten siblings by his father, Jamal Abdulla Johnson, and stepmom, Bernice Elizabeth Dockins Abdullah-Johnson. However, he did remarkably well to climb the ladder of success.
School and Education
Despite being born to a financially challenged family, Umar Johnson achieved the highest level of education. As a matter of fact, Umar Johnson is a highly-educated man who did his undergraduate from Millersville University and holds degrees in education and political science.
Similarly, he attended Philadelphia College of Osteopathic Medicine to pursue his Master's degree in Clinical Psychology in July 2009. But it does not stop there.
In fact, Umar continued his education in the same college and received the prestigious doctoral degree in Clinical Psychology in October 2012. He has also received Pennsylvania certification as a school psychologist.
Although some of his critics doubt his credentials, he has proved them wrong by having them verified.
Who is Dr. Umar Johnson's Wife?
Being such a polarizing figure in television, he has garnered thousands of fans and followers. Hence, his fans are intrigued in knowing who this man is married to.
However, as of now, there is no clear information about Dr. Umar's married life. In fact, he does not seem to have married anyone just yet. Moreover, he is never seen with a woman anywhere at all.
In one of his Twitter posts, this psychologist said that the right wife would come after he is done with his ongoing projects. Perhaps, Dr. Umar is focused on solidifying his career before walking down the aisle.
However, one thing is for sure. In the future, Dr. Umar's wife will only be a black woman as he is against interracial marriages. He is vocal about his beliefs, and as such, considers marrying a white woman a sin.
As a matter of fact, he calls out black men who have married Caucasian girls.
Net worth and income sources
Dr. Umar is a man who has found success in various lines of works. Be it as a doctor, author, or public speaker, Umar has made a lot of money. As of 2021, Dr. Umar Johnson's net worth is $1.5 million.
Initially, Umar was able to make significant wealth through his profession as a child psychologist. In later years, he began public speaking and appeared on various tv shows, podcasts, and radio shows which also helped add to his net worth.
On par with that, Johnson has also written some of the best-selling books, such as Psycho-Academic Holocaust: The Special Education and ADHD Wars Against Black Boys. This has helped him boost his bank balance. His popularity among the selected black community helped his books to sell in large proportions.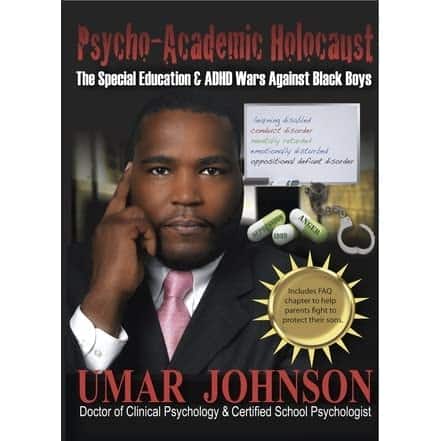 Scandal and controversies
Dr. Umar has faced numerous scandals and controversies that have haunted him throughout his life. Surely, the self-proclaimed "Prince of Pan-Africanism" has experienced waves of criticism along the way to achieve national fame.
Dissent for political and philosophical views
To begin with, he is known for his outright discontent with racism and interracial marriage. He has called out various fellow black people for marrying white counterparts. Likewise, he does not support the black LGBT community and does not hide from criticizing them.
Many people have also lambasted his political and philosophical views. Umar is adamantly against homosexuality, interracial marriage, and ADHD medication.
Likewise, he even had a tantrum against the host of the NewsOne Now, Roland Martin, regarding a similar matter.
Fake Degrees?
The state Bureau of Professional and Occupational Affairs accused Dr. Umar Johnson of portraying himself on his website as a psychologist who practices counseling services without a state license. If that is proved to be true, the board could charge fines and order him to pay for the cost of the investigation as well.
To Umar Johnson's defense, he explained that he worked as a school psychologist for the School District of Philadelphia and various charter schools that only required certifications as a school psychologist but not a state license to practice psychology. Also, his degrees and certificates have been verified to be legit.
Fund-Raising Fraud accusations
Similarly, in 2014, Johnson found himself trapped in another trouble. He shared his vision of converting a defunct Virginia historically black college into a boarding school. This institution would be named the Frederick Douglass and Marcus Garvey RBG International Leadership Academy for Black Boys.
He set a $5 million fund-raising goal for this mission that he hoped to hit by persuading his fans and believers. He had been raising money from a reliable fundraising website known as GoFundMe. They would go on to hit around $400,000.
However, their campaign was suspended due to an accusation that Johnson's fundraising lacked transparency. Moreover, his organization lacked the requirements to raise the fund.
To this date, no one has seen financial documentation showing how much money he has collected nor how he has used any of the funds. All nonprofit organizations must make funds available for public inspection; Dr. Umar's organization has failed to do so.
Wiki Facts
| | |
| --- | --- |
| Real Name/Full Name | Umar Johnson |
| Date of birth | 21st of August 1974 |
| Place of birth | North Central, Philadelphia. |
| Age | 46 years old |
| Weight | 200 lbs |
| Height | 6 feet 3 inch |
| Religion | Not available |
| Nationality | African American |
| Ethnicity | Black |
| Gender | Male |
| Sexual Orientation | Straight |
| Marital Status | Single |
| Spouse | Not available |
| Children | Not available |
| Profession | Psychologist, public speaker, author |
| Net worth | $1.5 million |
| Social media | Instagram |