Dr. Vivek Murthy is the surgeon general of the United States under President Joe Biden's administration. In fact, he is one of the few Indians to have ever been in this position.
Though Dr. Vivek Murthy is of Indian heritage, he was born and raised in Huddersfield, England. Similarly, Murthy was born on the 10th of July 1977 and is 43 years old as of 2021.
He was raised by his parents, Dr. H N Lakshminarasimha Murthy and Myetraie Murthy, immigrants from Karnataka, India. At the age of three, his family relocated to Miami and established their medical practice.
Who is Dr. Vivek Murthy?
Following in his parents' footsteps, Dr. Vivek also aspired to become a medical professional. Initially, he started his career as an American physician and a vice admiral in the Public Health Service Commissioned Corps.
Though he serves as the 21st surgeon general of the United States at the moment, he has also previously served as the 19th surgeon general from 2014 to 2017. While serving in the office, he was also the youngest active duty flag officer in federal uniformed service.
Thus, looking at his life, Vivek has spent most of his time serving the US government. Murthy co-chaired President Joe Biden's COVID-19 Advisory Board from 2020 to 2021, alongside former Food and Drug Administration commissioner David A. Kessler and Yale public health professor Marcella Nunez-Smith.
Education
It is no doubt that Vivek Murthy is a highly educated man. Obviously, a man of his stature has to have an outstanding level of education and be exceptionally talented. He graduated as valedictorian from Miami Palmetto Senior High School in 1994.
Dr. Vivek received exceptional grades during his school days. Later on, he was offered the chance to learn at one of the most prestigious universities in America, Harvard University. There, he graduated in 1997 with a bachelor of arts in biochemical sciences. Moreover, he graduated with great distinction and was labeled as magna cum laude.
Even in competitive universities, Vivek would outlast every other student. Similarly, with the goal of working in the health sector, Vivek Murthy earned an MD from Yale School of Medicine and an MBA from Yale School of Management. Furthermore, he was a recipient of The Paul & Daisy Soros Fellowships for New Americans.
Dr. Vivek Murthy is married to his wife, Alice Chen
There might not be a single woman who would not want to marry an accomplished man like Dr. Vivek Murthy. He met the love of his life, Alice Chen, years back.
Although the couple has the busiest schedule, they still managed to preserve some time for themselves. So far, they share two children.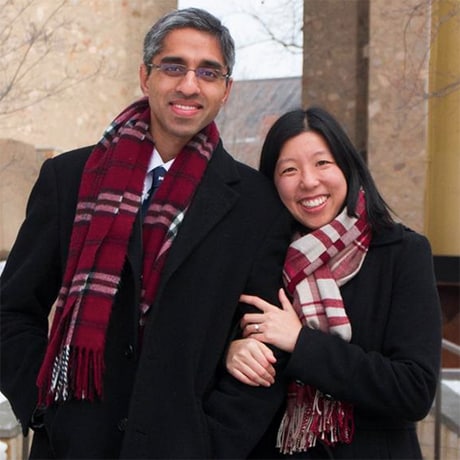 How did they meet?
The details about the couple's initial meetings are still under wraps. Nonetheless, they both share a similar career path. Most recently, the pair worked together in battling Covid 19 pandemic and ways to handle the spread.
So, we can surmise that the two first met while out in the field. They began their relationship shortly after knowing each other and dated for a long time.
But their hectic workload prevented them both from settling down with each other. Nonetheless, in 2015, the couple officially tied the knot in front of their friends and families, and members of national medical communities. News has it that their wedding took place at a venue in California.
Moreover, their ceremony was spectacular, a gorgeous multi-cultural wedding to be exact. The groom and bride integrated both Chinese and Indian culture into the procession.
Alice Chan's wiki: (her career profession etc.)
Much like her husband, Alice Chen is also an American physician. Moreover, she is an assistant clinical professor at the David Geffen School of Medicine at UCLA. Alice Chen was born in the San Francisco Bay Area.
Talking about her education, she studied biology at Yale University. During her time at Yale, she started getting involved with campaigning and taking part in protests. During the aftermath of the September 11 attacks, Alice volunteered as a caseworker for the American Red Cross as well.
Later, she moved to the Weill Cornell Medical College of Cornell University for her medical degree and graduated in 2005. Chen was an internal medicine resident at the David Geffen School of Medicine at UCLA and served as director of the UCLA residency program in Malawi.
Currently, she works with her husband as part of the health advisory board.
Dr. Vivek Murthy Net Worth and Salary
There is no doubt that a man like Dr. Vivek has a huge wealth as his career speaks for itself. Being an important member of the US government, it is fair to assume that Vivek is paid handsomely. For instance, according to The Washington Post, Vivek made $2 million just by doing pandemic consulting speeches.
Hence, according to numerous reports, Dr. Vivek's estimated net worth is $2 million. Likewise, his salary is close to about $662,093. Furthermore, he has also earned a significant amount of money from his medical career and public engagements. Being as accomplished as he is, Dr. Vivek is highly sought after in the area of public speaking.
Wiki Facts
| | |
| --- | --- |
| Real Name/Full Name | Vivek Murthy |
| Date of birth | 10 July 1977 |
| Place of birth | Huddersfield, England |
| Age | 43 years old |
| Weight | 180 lbs |
| Height | 6 feet 1 inch |
| Religion | Hindu |
| Nationality | American |
| Ethnicity | Asian |
| Gender | Male |
| Sexual Orientation | Straight |
| Marital Status | Married |
| Spouse | Alice Chen |
| Children | 2 |
| Profession | Physician, Surgeon General of the United States |
| Net worth | $2 million |
| Social media | Instagram |