Doctors are one of the crucial people in the world who cure patients of diseases. While there are thousands of health workers who serve the general public, only a select few ever get a chance to serve as the Surgeon General of the United States, just like Jerome Adams. Read this to know about his wife Lacey Adams. Also, details about Jerome's net worth, salary, and education.
Dr. Jerome is an American anesthesiologist and a former vice admiral in the U.S. Public Health Service Commissioned Corps. During his time as a vice admiral from September 5, 2017, to January 20, 2021, Jerome contributed as the 20th surgeon general of the United States.
Born on the 22nd of September 1974, Jerome Michael Adams is the son of Richard and Edrena Adams of Mechanicsville, Maryland.
Moreover, he grew up on the family's farm. Despite being born to a middle-class family, Jerome had the biggest of dreams. He wanted to become a doctor and make his parents proud.
Jerome was a talented individual from a young age and was destined to succeed in life. Hence, after outlasting his competitors and working hard on his dreams, Jerome was able to achieve success in his life.
Likewise, on the 29th of June 2017, President Donald Trump selected Adams to become the Surgeon General of the United States. The United States Senate affirmed Adams on August 3, 2017.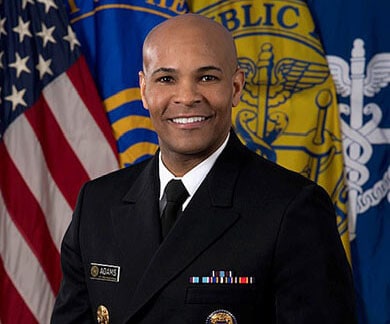 Dr. Jerome Adams Education.
There is no doubt that Jerome Adams is a highly educated man. As a matter of fact, to reach his position, one has to be extremely educated as well as exceptionally talented. Jerome had potential from a young age.
In fact, he was gifted with the ability to learn anything quickly. Not only that, but his level of shrewdness and adroitness was unmatchable.
A young Jerome began his schooling by attending Chopticon High School, graduating in 1992. Not only graduating but finishing in the top 5% of his class.
His astounding results saw him achieve a full-tuition waiving scholarship called Meyerhoff Scholarship, a grant dedicated especially to minority students interested in the science stream.
After which, he attended the University of Maryland Baltimore County. There, Adams received his Bachelor of Science in Biochemistry and Bachelor of Arts in biopsychology as well. Additionally, Adams has also studied in the Netherlands and Zimbabwe.
Recognized as Eli Lilly and Company Scholar, Adams attended medical school at Indiana University School of Medicine.
Upon graduation, he completed his internship in internal medicine at St. Vincent Indianapolis Hospital and his residency in anesthesiology at Indiana University from 2003 to 2006.
On top of that, Jerome Adams has also received a Master of Public Health degree from the University of California, Berkeley, in 2000, focusing on chronic disease prevention. As we can see, Jerome worked extremely hard to get where he is at the moment.
As of now, Jerome is a board-certified anesthesiologist and a former surgeon general of the United States.
Dr. Jerome Adams Salary and Net Worth.
People with huge responsibilities are often greatly rewarded. It is no doubt that an accomplished man like Jerome has a staggering fortune of wealth. However, he has not revealed his actual net worth to the public.
Moreover, there is not much news coverage on any of the media outlets regarding his wealth. Nonetheless, he is expected to have a net worth of above $2 million as of 2021.
Moreover, according to PayScale, a surgeon general usually has a salary of $291,997. Hence, during his time as a surgeon general from 2017 to 2021, he has definitely earned a significant amount of money.
He had to step down from this post after the new president's administration took over, and he was replaced by the current surgeon general, Dr. Vivek Murthy.
Nonetheless, before working for the US government, Adams used to work as Indiana state health commissioner, private practitioner, and academia that have also added greatly to his net worth.
Wife Lacey Adams and Kids.
Ever since Jerome came to the headlines, every personal thing about him started getting attention, such as his wife and children. Though a prominent name in the political and health sector, Jerome Adams' family chooses to stay away from the limelight.
While one may think that the life of public figures is amazing, but that is not the case. As soon as he reaches stardom, there are fans and media who are always keeping their eyes on them. Thus, disturbing their privacy.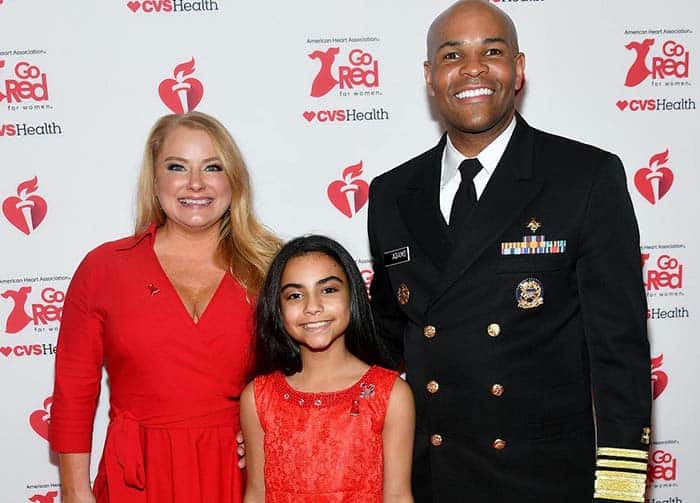 Perhaps it was these reasons that convinced the Adams family to sway away from the media's attention. Regardless, we know that the former surgeon general is married to his wife, Lacey Adams, who is an Indiana native.
However, the details about their initial meet-up and marriage are still under wraps. Nonetheless, Lacey is very supportive of her husband and is always by his side. She also accompanies Jerome on various occasions.
Dr. Jerome Adams' Wife's cancer diagnosis.
Though known to keep personal matters private, Lacey came into the headlines in 2018 when Jerome went public with his wife's cancer diagnosis on Twitter.
According to IndyStar archives, Jerome's wife Lacey Adams had melanoma on the thigh skin. After noticing a few swollen lymph nodes, she underwent total lymph node removal at the National Institutes of Health.
Children.
Adams and his wife Lacey share three children together, including two sons, Caden and Eli, and their daughter Millie. Jerome loves all of his children equally.
Likewise, his little ones are truly proud of their father. In fact, the whole family was by Jerome's side during the swearing-in ceremony by Vice President Pence in September.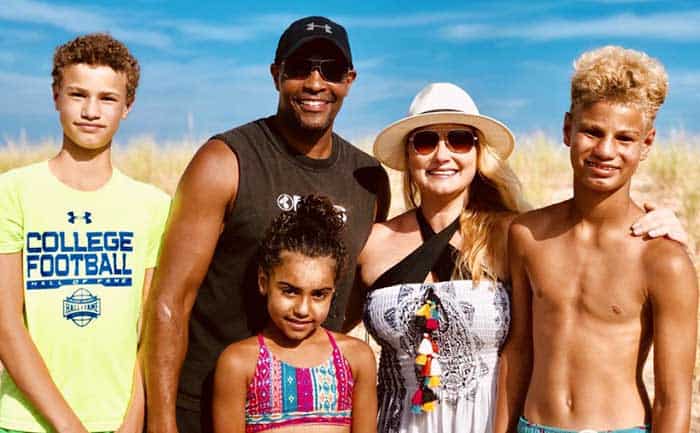 Parents and other families.
Jerome Adams' origin begins from his hometown in the rural area of Mechanicsville, Maryland. He is the second son of Richard and Edrena Adams. Both his parents used to work on the farm.
Similarly, Jerome grew up with three siblings, including a sister named LaToya, and two brothers, Richard Jr. and Phillips. Jerome comes from a good family who cares for one another through thick and thin.
In his family, Jerome is the only doctor who achieved so much in his life. On the other hand, his youngest brother, Phillips, was a victim of drugs and crimes. Nonetheless, as a responsible brother, he does everything to get his sibling out of trouble.
Wiki-Facts.
| | |
| --- | --- |
| Real Name/Full Name | Jerome Michael Adams |
| Date of birth | September 22, 1974 |
| Place of birth | Mechanicsville, Maryland |
| Age | 46 years old |
| Weight | 200 lbs |
| Height | 6 feet 2 inch |
| Religion | Not available |
| Nationality | American |
| Ethnicity | Black |
| Gender | Male |
| Sexual Orientation | Straight |
| Marital Status | Married |
| Spouse | Lacey Adams |
| Children | Caden, Eli, Millie |
| Profession | Anesthesiologist |
| Net worth | $2 million |
| Social media | Twitter |