Dr. Drew Pinsky is a well-known medical practitioner who specializes in addiction medicine. Moreover, Dr. Pinsky is a regular feature on medical TV shows and radio. He is married to Susan Pinsky. Besides her fame as the celebrity doctor's wife, Susan is also an active philanthropist, CEO, and successful podcaster.
In addition to this, Susan is also an ambassador for her husband's website, drdrew.com. Read on to learn more about Dr. Drew's wife. We will cover relevant info about her age and biography.
Susan Pinsky Age and DOB
Susan Pinsky was born on December 22nd, 1959, in Newport Beach, California. As such, it makes her 61 years old at the time of writing. Susan's given birth name was he was Sailer.
Moreover, she is the daughter of Dennis and Patricia Sailer. Susan grew up with one brother, David Sailer. Sadly both of her parents passed away, and there is no present information about her brother or her relationship with him.
Susan Pinsky Net Worth and Income Sources
Susan Pinsky's net worth is estimated to be $2 million as of 2021. She earns her money through her career as a CEO. Reports estimate that people in her line of work make an average of $800,000 every year.
Moreover, she is the mind behind the successful podcast Playroom Podz. The show has received international recognition, improving her career immensely.
Susan is also the presenter and producer of the show, Calling out with Susan Pinsky. Additionally, she also works as one of the producers on Life with Dr. Drew and Bob Forrest.
Susan also appeared as one of the judges for Miss Nevada, as well as few other productions. She also generates income from various endorsements and promotions. One of the most notable things about Susan is that she radiates kindness and a giving spirit.
It, therefore, isn't surprising that she is an active philanthropist. She was on the Board of Directors for Hillsides in California that helped raise millions for the children of Los Angeles.
Susan Pinsky Husband and Kids
As for her personal life, Susan is the proud mother of three children, who she shares with her husband, Dr. Drew. The couple got married in 1991 and will be celebrating their 30th anniversary in July of 2021.
Remarkable, back on the 11th of November 1992, the couple was blessed with three children, triplets. Douglas, Jordan, and Paulina Pinsky. Currently, they are all 28 years old.
Paulina Marie Pinsky is the only daughter in the family. She is presently an accomplished author and educator who loves to paint and dance.
Douglas Pinsky, on the other hand, is a law clerk by day and adventurer by night. When he is not working at Loyola Law Evening, he travels (mainly to Australia) and composes music. His brother, Jordan Davidson, is an avid 'professional fun-lover.' He enjoys traveling to many countries to absorb new cultures and learn about the people in host nations.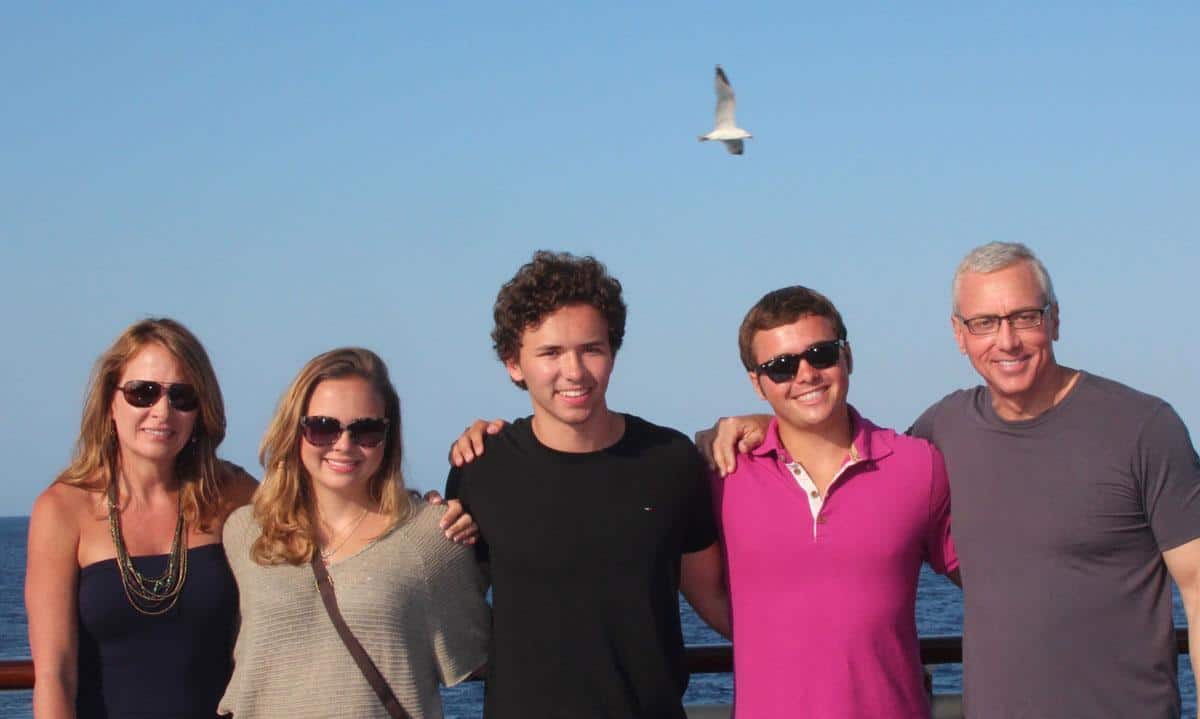 Susan Pinsky Biography and Facts
Susan Pinsky has not revealed any information regarding her past life. Therefore, not much is known about her early education and academic background. However, based on how she talks and carries herself, we can guess that she is a well-educated lady who definitely went to school.
Looking at her measurements, Susan stands at the height of 5 feet and 6 inches, roughly 1.67 meters. Additionally, she currently weighs 58 Kgs and also boasts a body measurement of 34-28-36. A further description of her includes green eyes and natural blonde hair.
Social media Activity
Susan Pinsky is very active on most social media platforms. To date, her Instagram account has over 10K followers and is dedicated to her career and family. One of her latest posts shows Susan lounging in the sun. It is fair to say that she looks stunning and not like someone in her 60s at all!. A deeper dive into her Instagram account also revealed that Pinsky and her family are avid animal lovers. The family has a dog named Rex.
Similarly, her Twitter account is dedicated to promoting her brand as well as her husband's brand. Most of her posts are littered with posts about her husband's podcasts. She essentially promotes all of the episodes featured on the audio show, meaning that she is possibly her husband's biggest supporter.
Wiki-bio and Facts
| | |
| --- | --- |
| Full name | Susan Pinsky |
| Age | 61 years old |
| Date of Birth | December 22nd, 1959 |
| Place of Birth | Newport Beach, California |
| Profession | Philanthropist, CEO, and Producer |
| Net worth | $2 million |
| Partner | Dr. Drew Pinsky |
| Kids | Three |
| Nationality | American |
| Ethnicity | Caucasian |
| Zodiac Sign | Capricorn |
| Parents | Dennis Sailer and Patricia Sailer |